Written by REV Scale
Friday, 30 November 2007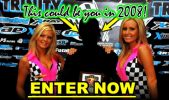 The 2008 Snowbird Nationals entry form is now live on the Snowbirds website with online registration and online payment.
Jan 29th - Feb 3rd, 2008
Practice: Tue/Wed
Racing: Thu/Fri/Sat/Sun
Yes it is true! After 7 interesting and exciting years on I-Drive, we have found a new home. The 2008 race will be held at the beautiful Radisson Resort in Kissimmee on 192, just 1 mile from Disney and Old Town. This is great area, with even more wonderful things to do and see while you and your families are here for the race!
Source: SnowBirds